CATEGORIES
Latest news
Contact us
ADD: Chumen, Yuhuan, Zhejiang, 317600
TEL: +86-576-8460-5915
FAX: +86-576-8073-8503
E-mail: info@mmhtools.com

> Hydraulic pipe bender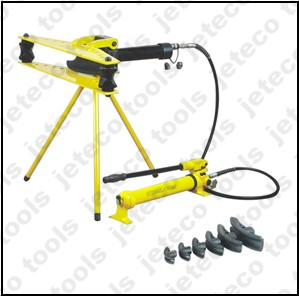 FWG series hydraulic pipe bender
Product description: FWG-2, FWG-3, FWG-4 hydraulic pipe bender
PRODUCT INTRODUCTION
FWG-series hydraulic pipe bender, operated by hydraulic hand pump.
Suitable for bending steel tube, copper pipe, Zinc pipe and other metal tubes.
FWG-2:bending for 21.3mm-60mm, bending dies 1/2'', 3/4'', 1'', 11/2'', 2''.
FWG-3:bending for 21.3mm-88.5mm, bending dies 1/2''-3''.
FWG-4:bending for 21.3mm-108mm, bending dies 1/2''-4''.
Hydraulic pump with high pressure oil hose, length is 1.6M, if possible you would like a longer oil hose, please contact us.