CATEGORIES
Latest news
Contact us
ADD: Chumen, Yuhuan, Zhejiang, 317600
TEL: +86-576-8460-5915
FAX: +86-576-8073-8503
E-mail: info@mmhtools.com

> Hydraulic pipe press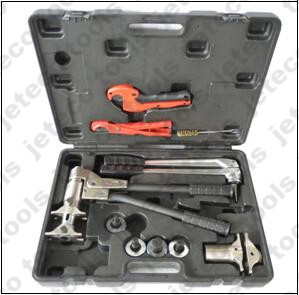 PEX-1632 pex clamping tool set
Product description: For Rehau plumbing system, PEX-1632 pex clamping tool
PRODUCT INTRODUCTION
PEX-1632 pex pipe clamping tool set, within plastic carrying case.
Include pipe pressing, pipe expanding, pipe cutting and brush.
For working 16-32mm sizes, other sizes for choice.
Complete tool set include:manual pipe clamping tool and parts, pipe expander kit, pipe cutter and brush.
Suitable for Rehau hot and cold water system, underfloor water system, rainwater system and etc.
U shape compression tool jaws, double jaws for working.
Full sizes of pressing jaws for choice.