CATEGORIES
Latest news
Contact us
ADD: Chumen, Yuhuan, Zhejiang, 317600
TEL: +86-576-8460-5915
FAX: +86-576-8073-8503
E-mail: info@mmhtools.com

> Cable wire tool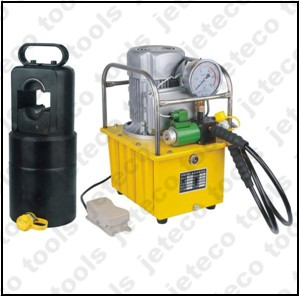 Wire rope crimping machine
Product description: Crimping steel cable wire, sleeve and ferrules with wire rope.
PRODUCT INTRODUCTION
Electric motor hydraulic pump operated hydraulic wire rope crimping head.
Heavy duty hydraulic pressing.
We can make the hydraulic crimping machine with 30ton, 50ton, 100ton, 200ton, 300ton wire pressing force.
Suitable for crimping steel cable wire ropes, with aluminum sleelve, copper ferrules.
Suitable for 3mm, 4mm, 5mm, 6mm, 8mm, 10mm, 12mm sizes.