CATEGORIES
Latest news
Contact us
ADD: Chumen, Yuhuan, Zhejiang, 317600
TEL: +86-576-8460-5915
FAX: +86-576-8073-8503
E-mail: info@mmhtools.com

> Hydraulic crimping tools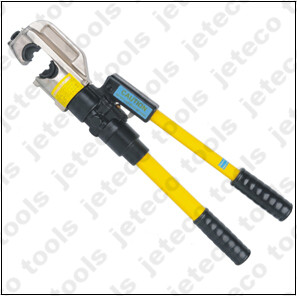 EP-510 Hydraulic crimping tool
Product description: 16-400sqmm hydraulic crimper tool unit.
PRODUCT INTRODUCTION
EP-510 hydraulic crimper unit, share the same hydraulic crimping tool with CYO-510 tool unit.
Good look C shape tool head, with wide opening area.
Tool head by nickel-plated.
42mm working stroke.
16-400sqmm wide crimping range.
Double speed hydraulic system.
Equipped with safety valve for protection of overload operate.
Fiber-glass tool handles.
Rotate the active handle for pressure release.
Complete crimping dies set:16, 25, 35, 50, 70, 95, 120, 150, 185, 240, 300, 400sqmm.
Crimping dies made by 45# steel material.
Full unit within quality plastic carrying package.