CATEGORIES
Latest news
Contact us
ADD: Chumen, Yuhuan, Zhejiang, 317600
TEL: +86-576-8460-5915
FAX: +86-576-8073-8503
E-mail: info@mmhtools.com

> Hydraulic hole punching press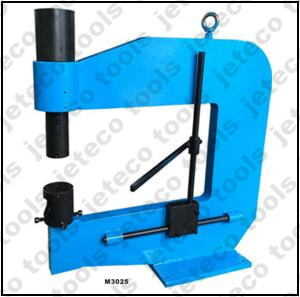 G shape hydraulic stand punch
Product description: hydraulic stand hole punch, G shape hydraulic hole puncher.
PRODUCT INTRODUCTION
M3025 G type hydraulic stand hole punch pressing machine.
New designed hydraulic hole punch unit for steel working, metal shaping, electric switchgear building and etc.
Suitable for mild steel, stainless, aluminum, Zinc plate, copper sheet, plastic plate.
Easy to make round hole, square hole, rectangular hole.
We are the only real manufacturer who produce this series hole punching press machine.
The G shape hydraulic hole punch machine with a wide working capacity.
Max working width is 550mm.
Max working height is 60mm.
Max working up to 3mm thickness of mild steel.
Double action hydraulic working system.
Equipped with red light pointer for hole center guide.
Equipped with stand base.
Special desiged hole punch dies set.
If you would like to know more information about Jeteco Tools brand hydraulic hole punch, please feel free to email us for details communications.