CATEGORIES
Latest news
Contact us
ADD: Chumen, Yuhuan, Zhejiang, 317600
TEL: +86-576-8460-5915
FAX: +86-576-8073-8503
E-mail: info@mmhtools.com

> Hydraulic hole punch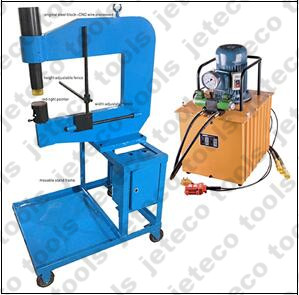 Hydraulic stand hole punching press
Product description: New designed, stand hole puncher
PRODUCT INTRODUCTION
Hydraulic stand hole punch machine, Jeteco Tools brand M3026 quick speed hydraulic hole punching press.
Quick work in round, square, rectangular or special holes.
Suitable for mild steel, stainless, copper, aluminum, plastic material.
Round hole works:¢5mm - ¢55mm
Square hole works:max up to 38mm*38mm
Mild steel working max up to 3mm thickness.
Max working up to 550mm of working width.
Max working up to 350mm of working height.
Length adjustable fence, and depth adjustable fence.
Movable stand base.
Double action hydraulic working system.
AC 110V-130V, 220V-240V, 380V electric motor hydraulic pump power for choice.
0.75KW, 1.5KW working rate for choice.
Foot pedal with remote cable control switch system.
Red light pointer system for hole center guidance (for choice).
If you would like to know more information about our products, please feel free to contact us.
Thank you for visiting Jeteco Tools™ website.